Reach business customers and raise your B2B trading
Amazon Business launched 2015 in the US and made a turnover of more than a billion US dollars within the first year – Amazon sellers account for more than the half of these orders. After having successfully launched in the US and Germany, Amazon Business is now available on Amazon.co.uk.

Now, even more business customers can purchase on the new Amazon marketplace – from small businesses to large corporations and institutional buyers like universities, hospitals and non-profits. The Amazon Business programme is available to sellers based in the UK, Germany and internationally, and includes also the top service Fulfilment by Amazon (FBA).
With the interface between Speed4Trade CONNECT to Amazon Business, sellers can take part in this program and reach specific business customers.
With Amazon Business, a new marketplace was created for selling to business customers on Amazon.de and Amazon.co.uk.
Our solution is fully compatible with all new Amazon Business features such as Business Pricing, Quantity discount price and the VAT Calculation Service. For example, car part trader and manufacturer profit from selling via Amazon Business.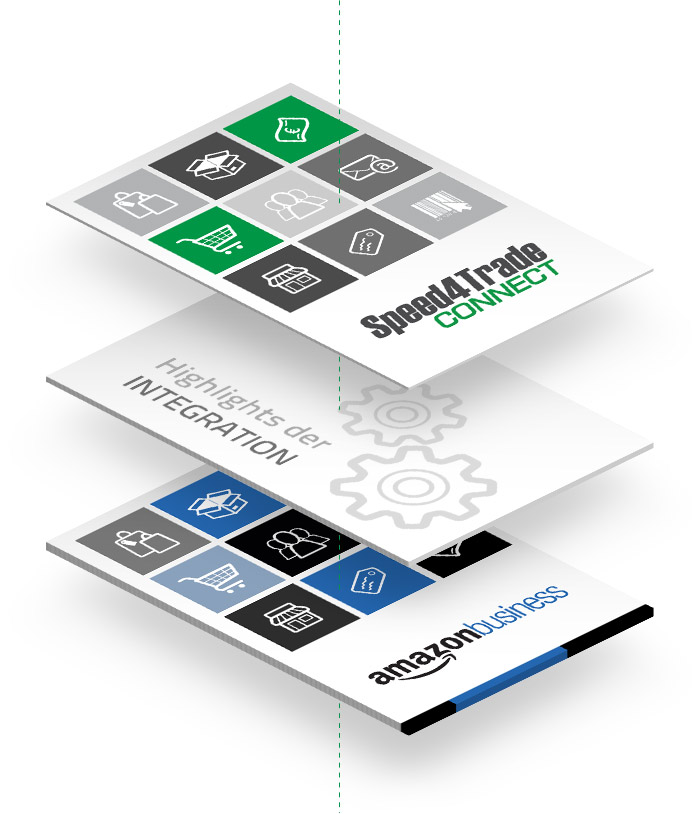 Benefits for sellers — more B2B sales power for Amazon Business sellers
VAT Calculation Service
The VAT Calculation Service (VCS) will provide VAT invoices on your behalf for all your Amazon customers. After activation of the service your offers will show VAT-exclusive prices to business customers on Amazon.de and Amazon.co.uk. This helps you increasing your chances to win the Amazon buy box.
Click here to learn more about the service or here for the Amazon FAQs. Please note that after completing the enrolment process, Amazon will get back to you within 4 days to verify your information. Speed4Trade worked closely together with the Amazon Business team to make available all newly features of Amazon Business — including the VAT Calculations Service. Amazon Business is available with the version 4.7.5 of Speed4Trade CONNECT.
Address your business customers successfully with Speed4Trade CONNECT
With the integration platform Speed4Trade CONNECT you can quickly start selling via Amazon Business. Develop new turnover potentials in a well-funded B2B sector and increase the average shopping cart value with more orders from companies.
The interface between Speed4Trade CONNECT and Amazon Business, as well as the connection to the Enterprise Resource Planning (ERP), guarantees the overview of all orders and transactions. The connection from Speed4Trade CONNECT to the ERP-System is realized through the API of Speed4Trade CONNECT.
You're still not selling at Amazon? Start now as a seller at the successful marketplace with the help of the eCommerce integration platform Speed4Trade CONNECT and profit from a strong marketing appearance and customer frequency.
Do you want to learn more about the connection to Amazon or the new seller program Amazon Business? The Speed4Trade service team will gladly answer your questions via phone (+49 9602 9444-400) or mail (service@speed4trade.com).